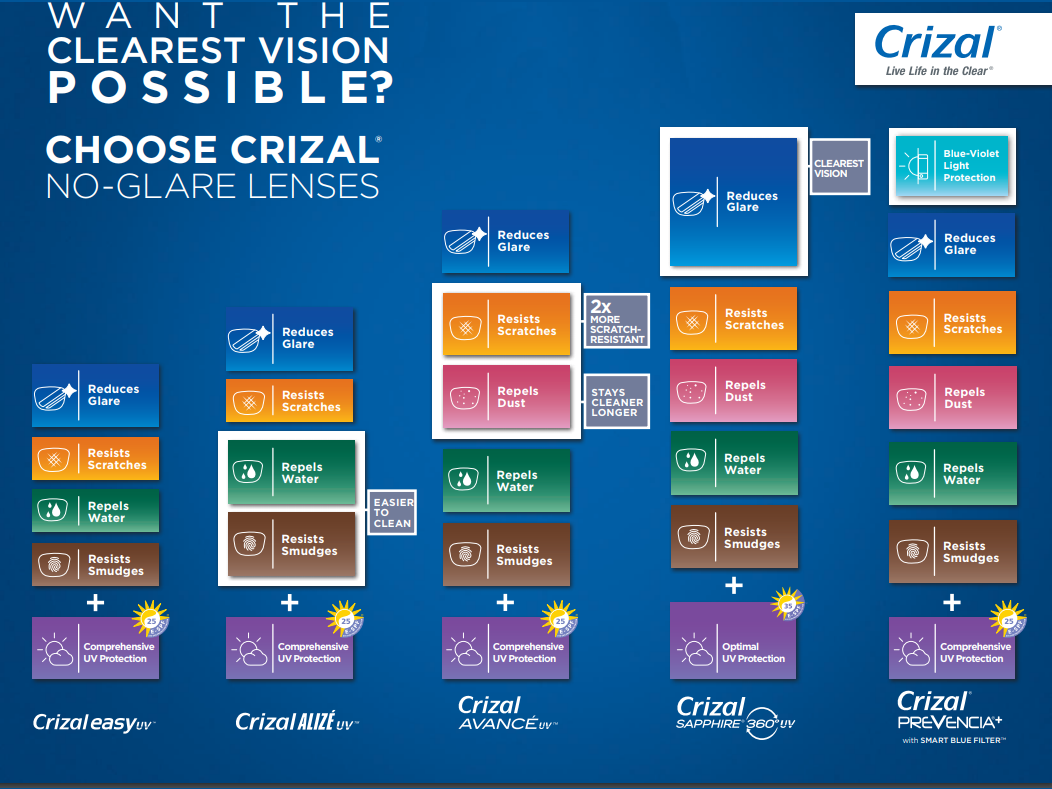 At Cypress Eye Centre, we do not compromise on our standard and we strive to meet your daily vision needs. Here's introducing to you some, but not all of our lens options for your daily needs. Whether you enjoy hiking, biking, or spending time outside with your family, you need the right lenses to protect your eyes from the elements. Glare, UV rays, fog, wind, and dust all present hazards to your eyes.That's why it's important to pick the right type of lenses for your active outdoor lifestyle.
Consider trying out our crizal range:
Crizal No-Glare lenses give you the clearest vision possible, so you're ready for whatever comes your way—glare, scratches, smudges, and even UV light.
There's a reason these lenses are worn by millions of people across the world. Industry-leading and patented technologies ensure that Crizal lenses meet your standards and help provide you with superior protection against glare, scratches, smudges, and UV light for the clearest vision possible.
THE CRIZAL LENS DESIGNS
CRIZAL REVENCIA – CLEAR AND COMFORTABLE VISION
Between sunlight, indoor lighting, and most digital screens, blue-violet light surrounds you every day. Help stay protected with lenses that block out Harmful Blue Light while still allowing beneficial blue-turquoise light to pass through.
CRIZAL ALIZE – SUPERIOR SMUDGE RESISTANCE
An unclean lens makes it harder to see clearly. Crizal Alizé UV lenses set the bar for smudge resistance, staying cleaner longer for distraction-free vision.
CRIZAL EASY – DURABLE AND EASIER TO CLEAN
Ordinary lenses don't stay clean and clear. These lenses are easier to clean and come with scratch protection for increased durability.
CRIZAL PREVENCIA KIDS – PROTECTION FROM DIGITAL DEVICES
Overexposure to blue-violet light may affect your child's long-term eye health. Help protect them from the digital devices they use every day with Crizal Prevencia Kids lenses, which selectively filter out harmful light while letting good light pass through.
See chart below for a brief description of the lens properties: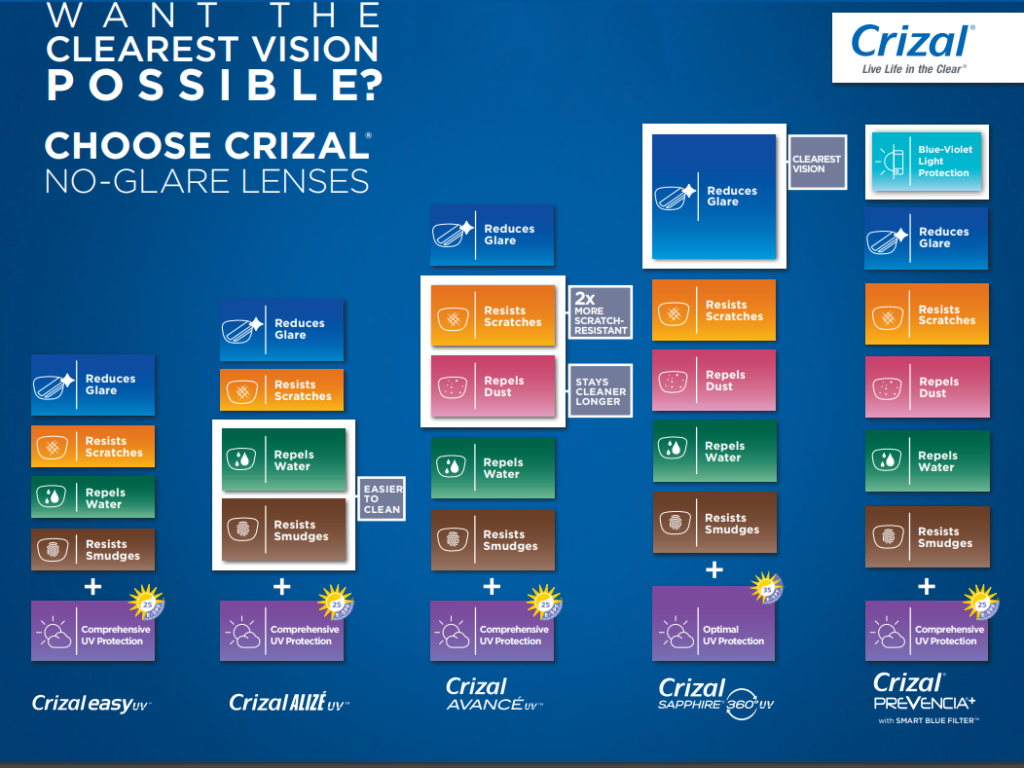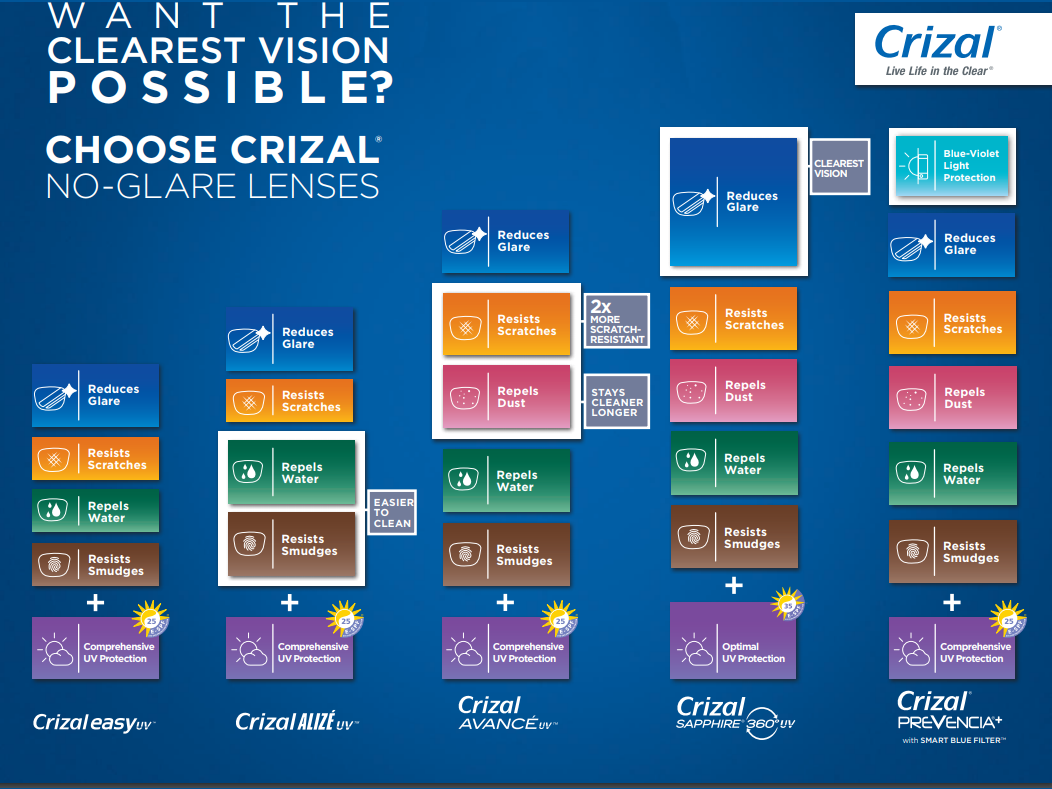 Our Transition lenses are top notch:
TRANSITION LENSES – Lenses that are clear indoors and automatically adjust their level of darkness to the amount of light outdoors are called transition lenses. These lenses are great for people who are always on the move, going from indoors to outdoors several times a day.
TRANSITIONS XTRACTIVE – EXTRA PROTECTION FROM LIGHT, EVEN IN THE CAR
The best choice for anyone desiring extra protection from light, Transitions XTRActive lenses protect your eyes from harsh natural and artificial light anywhere you go: indoors, outdoors, and even in the car.
POLARIZED PRESCRIPTION SUN LENSES
Xperio UV polarized prescription sun lenses aren't just ordinary sun lenses. They help you see more no matter what you're doing outside, providing excellent clarity of vision all while protecting your eyes with a superior quality lens.