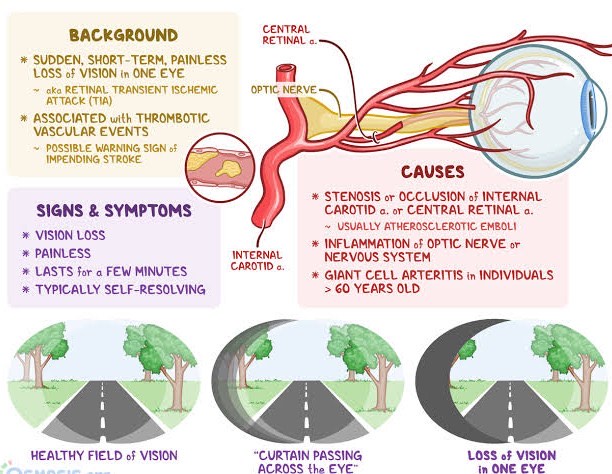 HAVE YOU EVER EXPERIENCED AN EPISODE OF SOME SECONDS TO A FEW MINUTES OF VISION LOSS IN ONE EYE? THIS CONDITION IS CALLED AMAUROSIS FUGAX.
WHAT IS AMAUROSIS FUGAX(AF)?
The word Amaurosis is a Greek word meaning Dark and the word Fugax a Latin word meaning Fleeting.
Amaurosis Fugax is the temporary loss of vision in one
eye due to lack of blood flow to that eye. It can also be called TRANSIENT VISUAL LOSS. This condition is a symptom of an underlying problems such as a blood cloth or insufficient blood flow to the vessels supplying the eye. It is more prevalent in adults. It is also a symptom of TRANSIENT ISCHEMIC ATTACK.
SYMPTOMS
Sudden cloudy vision which may be altitudinal, peripheral, central,or even vertical that can last for a few seconds to minutes .
It is also painless.
CAUSES.
When blood flow to the Central Retinal Artery is blocked which can be due to a plaque or blood cloth in the same carotid artery.
Anti phospholipid antibody syndrome which is common in patients with Lupus can also cause AF even in children.
UNDERLYING CAUSES.
Brain tumour
Head injury
History of multiple sclerosis. This is a disease in which the immune system eats away the protective covering of the nerves. It disrupts the communication between the brain and the body.
Optic neuritis. This is an inflammation of the optic nerves ( the nerves of the eyes that send visual information to the brain).
Diseases that affect the nervous system and or blood flow to the head can typically cause AMAUROSIS FUGAX.
VASOSPASM can also cause AF. This is a case whereby the blood vessels in the eye suddenly tightens, restricting blood flow. Strenous exercises, long distance running can also cause vasospasm.
RISK FACTORS.
History of heart disease
Hypertension
High Cholesterol
Smoking or a history of alcohol or cocaine abuse.
DIAGNOSIS AND TREATMENT
Although AF is a fleeting condition, it is often a concerning indicator of an underlying medical condition. Once this happens, the patient should visit an eye doctor for eye examination and other required tests which will help in identifying and treating the underlying medical condition.