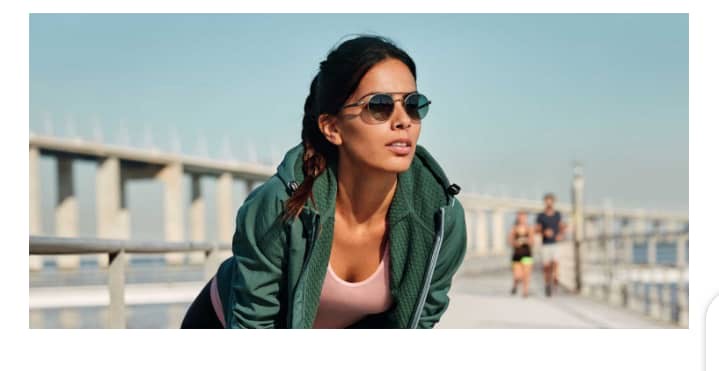 WHAT ARE POLARISED LENSES?
Light can reflect off a number of different flat surfaces, including water, snow, cars, and roads. When light is reflected it travels in a horizontal focus, making it difficult for us to see. The unique filter in polarised lenses blocks out the intense glare that follows and allows only vertical light to enter your eye.
Polarised lenses also offer enhanced color perception compared to tinted lenses, making it easier to see in bright light conditions.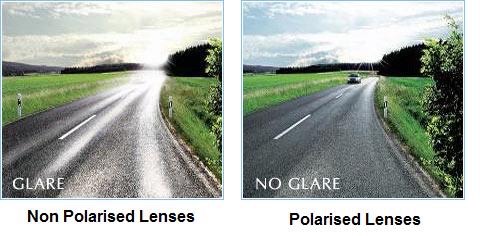 WHY DO YOU NEED TO WEAR POLARISED LENSES?
Polarised lenses are beneficial for a number of activities, and are helpful for people who spend a lot of time outdoors. One particular activity that requires clear vision is driving. Cars and roads, especially wet roads, can create a lot of glare and even your own dashboard can reflect the sunlight in a distracting manner. Polarised lenses are able to reduce this glare and make it safe to drive, even in bright light conditions.
Polarised lenses are often worn by those who spend a lot of time on or near water. Those who partake in fishing and boating activities may benefit from the features of polarised lenses, just make sure if you're a competitive fisher that your competition allows you to wear polarised lenses. Likewise, snowboarders and skiers may find that these lenses enhance their visual experience by reducing glare from the snow and ice.
If you suffer from light sensitivity, or you have recently had cataract surgery, polarised lenses can provide protection from the bright light that may cause you severe discomfort.
With summer only around the corner, make sure your eyes are sufficiently protected from glare and UV light with polarised lenses.
ADVANTAGES OF POLARIZED LENSES
It gives clearer vision, especially in bright light

It increases contrast and minimal color distortion

Reduced glare and reflection

Reduced eyestrain.
These advantages make polarized lenses great for sunglasses. They're perfect for anyone who spends a lot of time outdoors, and they can help improve your vision in high-glare situations.
However, because the polarized coating also darkens the lens, polarized lenses aren't available for regular reading glasses.
DISADVANTAGES OF POLARIZED LENSES
While polarized lenses are great for protecting your eyes from bright light and reducing glare, there are some drawbacks.
POLARIZED LENSES AREN'T GOOD FOR…
Looking at Liquid Crystal Display (LCD) screens

Low-light situations and driving at night
Be careful about wearing polarized lenses at night. Polarized lenses are suitable for driving during the day, but wearing them at night can be dangerous.
The darkened lens makes it harder to see in low-light situations, which can be made worse if you already have trouble seeing at night.
If you're not sure whether you should try polarized lenses, try talking to an eye doctor about which type of protective sunglasses are best for you and your eyes.
POLARIZED LENSES VS. UV PROTECTION
Polarized lenses and UV-protective lenses are not the same things. So, it's important to remember that polarized lenses don't provide UV protection unless otherwise labeled.
UV protection alone also doesn't make a pair of sunglasses effective against reflected beams of light and glare.
UV-protective lenses work by shielding your eyes against harmful UV exposure, which is linked to cataracts and eye damage.
However, since UV lenses don't prevent glare, you should look for sunglasses that are both polarized and offer UV protection.