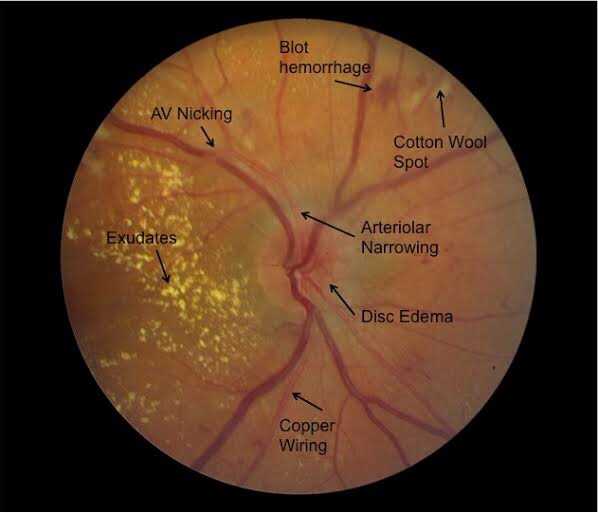 Blood pressure is the force at which blood pumps from the heart into the arteries. A normal blood pressure reading is 120/80 mm Hg.
When blood pressure is high, the blood moves through the arteries more forcefully. This puts increased pressure on the delicate tissues in the arteries and damages the blood vessels. Blood pressure (hypertension) can quietly damage the body for years before symptoms develop. Uncontrolled high blood pressure can lead to disability, a poor quality of life, or even a deadly heart attack or stroke.
Treatment and lifestyle changes can help control high blood pressure to reduce the risk of life-threatening complications.
DAMAGE TO THE EYES
The retina is the tissue layer located in the back of your eye. This layer transforms light into nerve signals that are then sent to the brain for interpretation.
When your blood pressure is too high, the retina's blood vessel walls may thicken. This may cause your blood vessels to become narrow, which then restricts blood from reaching the retina. In some cases, the retina becomes swollen.
Over time, high blood pressure can cause damage to the retina's blood vessels, limit the retina's function, and put pressure on the optic nerve, causing vision problems. This condition is called hypertensive retinopathy (HR).
High blood pressure can damage the tiny, delicate blood vessels that supply blood to the eyes, causing:
Damage to the blood vessels in the light-sensitive tissue at the back of the eye (retina) which lead to bleeding in the eye, blurred vision and complete loss of vision.
Fluid buildup under the retina (choroidopathy). Choroidopathy can result in distorted vision or sometimes scarring that impairs vision.
Nerve damage (optic neuropathy). Blocked blood flow can damage the optic nerve, leading to bleeding within the eye or vision loss.
HOW IS HYPERTENSIVE RETINOPATHY DIAGNOSED?
BY THE USE OF OPHTHALMOSCOPE: Your doctor will use a tool called an ophthalmoscope to examine your retina.This tool shines a light through your pupil to examine the back of your eye for signs of narrowing blood vessels or to see if any fluid is leaking from your blood vessels. This procedure is painless. It takes less than 10 minutes to complete.
WHAT CAUSES HYPERTENSIVE RETINOPATHY?
Hypertensive retinopathy generally occurs after your blood pressure has been consistently high over a prolonged period without proper control and management.
THE BLOOD PRESSURE LEVELS CAN BE AFFECTED BY:
A lack of physical activity

Being overweight

Eating too much salt

A stressful lifestyle

High blood pressure also runs in families.

Too much alcohol consumption.

Smoking
HOW IS HYPERTENSIVE RETINOPATHY TREATED?
The best way to treat hypertensive retinopathy is to adequately control your blood pressure.
Other vision-threatening conditions like retinal edema, retinal hemorrhages should also be aggressively controlled and treated with laser or with intravitreal injection of corticosteroids or antivascular endothelial growth factor drugs(e.g my orenibizumab, pegaptanib, bevacizumab).
CAN HYPERTENSIVE RETINOPATHY BE PREVENTED?
To prevent hypertensive retinopathy, keep your blood pressure under control by reaching and maintaining your optimal weight, sticking with a diet recommended by your physician, exercising regularly, and faithfully taking your high blood pressure medications as prescribed. In addition, see your doctor on a regular basis for follow-up care.