Choosing the right frame enhances your facial features. Here is the scoop on eyeglass frame trends for each face. Choosing new eyeglass frames is like selecting a new face. As such, you'll want to consider factors like your face shape, skin tone, lifestyle and personality to ensure your new glasses enhance your look. Luckily for you, this guide tackles how face shapes and other traits influence styles and choice of frame.
You don't need to be a fashion expert to find eyeglass frames that look great on you. Use the following tips to find the frames that work best for your face and style.
SHAPE OF FACE: Is your face round, oval, square, diamond or heart-shaped? The shape of your face will help you determine which frames enhance your look.
Round Face: Eyeglass frames that are square or rectangular tend to be wider than a round face. This quality can enhance your face by making it appear slimmer and longer, adding balance to your round features. Avoid Rimless frames, round frames and small frames because they will accentuate the roundness, making your round face look even rounder.
Oval Face: Frames that suit an oval face have a strong bridge, are wider than the broadest part of the face and are geometric in shape. Avoid frames that are overlarge and cover up more than half of your face.
Square Face: Eyeglasses that soften the angularity and sit high on the bridge of the nose look best on square faces. Oval or round eyeglasses will balance and add a thinner appearance to the angles of a square face. Avoid frames that are angular and boxy eyeglass frames will sharpen and draw attention to your angular features, making a square face appear bulky.
Heart-Shaped Face: Frames that balance the width of the forehead with the narrowness of the chin are ideal. Frames with low-set temples and bottom heavy frame lines will add width to that narrower part of your face. Round eyeglasses or square eyeglasses with curved edges will help draw attention away from a broad, high forehead. Stay clear of any style or colour of frames that draws attention to the forehead. This includes frames with decorative temples or embellished tops.
SKIN TONE: Just as the shape of your face helps determine which frames look best, so does your skin colour. Skin tone sets the tone for high fashion frames and always select a shade closest to your skin tone.
LIFESTYLE: Your glasses should also be practical for your daily activities. You might want a pair for gaming, long work days in front of a computer screen or reading to reduce eye fatigue. And if you're active or move around a lot having flexible frames that won't break when bent is a perfect match. Gamers can choose from a wide selection of stylish frames that enhance the gaming experience. When impressing the big wigs at the office, you can accessorize your business savvy with sensible style. At Cypress you will find frames with a functionality that matches your lifestyle.
PERSONALITY: The frames you wear can say a lot about your personality. Ultimately, your frames should display your personality and style. You might want a fun, flirty pair for the weekends out with friends. And a more refined yet cute pair for the office , it's fun but also signifies you mean business. While you can keep the considerations of this guide in mind, there are no rules. If the frame and colour make you happy and confident, that's all that matters. Your face with your favourite colour (as long as it doesn't clash with your skin tone) or detailed embellishments and flare. Choose either one style of frames to express your personality or have a small collection of frames on hand to easily alter your appearance to suit your mood.
HOW GLASSES SHOULD FIT:
Eyeglasses should rest on your nose without slipping or imprinting red marks on the nose. Your frames should feel like they are balanced or equally distributed across the bridge of your nose.
Your glasses shouldn't rest on your cheeks when you smile. They should be level on your face.
The temples of your eyeglass frames should feel secure around or over your ears, without pinching or feeling uncomfortable. If the width of the frames is just right for the width of your face, your glasses won't budge when you look down and shake your head.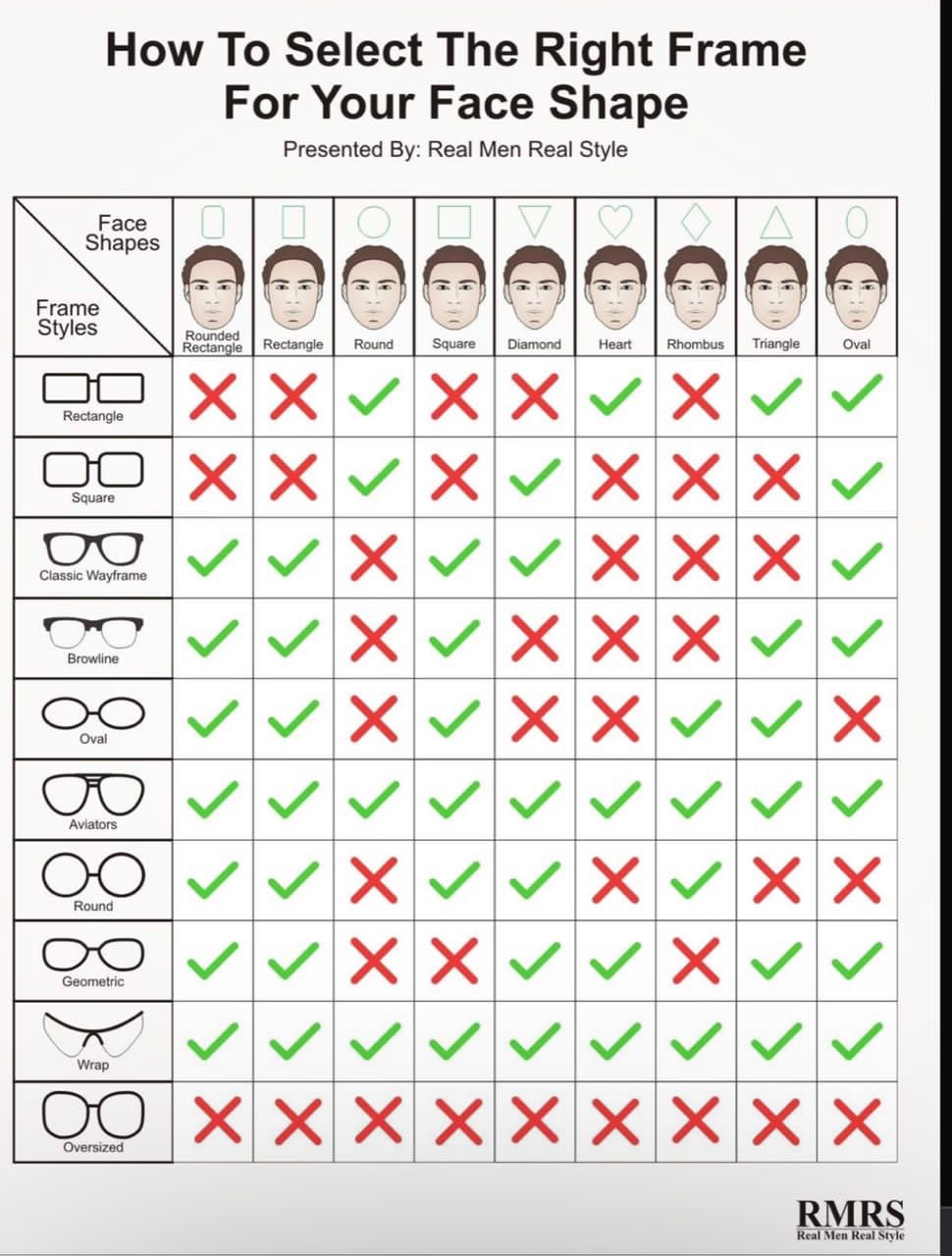 COMMON FITTING PROBLEMS
If your glasses keep sliding down your face: This could indicate that the frame is too big for your face.
If your glasses leave red marks on the bridge of your nose? This probably means that your glasses are too tight, or the frame might be bent or crooked. If your glasses are indeed the right fit, adding nose pads could do the trick.
Misalignment of frames on your face. Most people have crooked eyebrows, which can make your frames appear crooked when you wear it.